There's only a week left. Not even that, really. Six days.
I've almost missed it. Almost.
But I'll take those six days and deem it not too late to share a holiday blog. It's my favorite time to write and I always have so much to say, but I've just been letting the voices in my head hash it out so far this year. No more! I'm silencing those voices

—

or at least sharing their cacophony with a larger audience.
And now this...
Thanks to the wonderful world of streaming TV we can now visit the ghosts of TV past whenever we want to. I have a regular playlist of episodes from beloved shows that always give me what I need

—

be that laughter, comfort, or really, I'm looking for laughter, here.
As I snuggled down to watch one of these yuletide shows, I realized I had never shared these holiday treats with you. So, in an effort to right that grievous wrong, here is a (partial) list of must-see holiday TV
—according to me.
"How the Ghosts Stole Christmas" The X-Files
Photo: awardsdaily.com
I
f you like your holiday more maudlin and ghosty, but have tired of the "A Christmas Carol" trope, then this is one show that will not disappoint. This episode is the epitome of all the things I love, love, LOVE about
The X-Files.
It showcases Mulder and Scully in all their believing and skeptical (respectively) glory.
Mulder lures Scully to a haunted manor and basks in the perfection of his own words as he tells her the tale of the ill-fated young lovers whose spirits walk the halls each Christmas Eve, "I think I just gave myself the chills."
Scully is characteristically impatient and wants to go home to wrap presents (which are already wrapped when they pan to them) and get on with regular happy-family Christmas things.
The interplay between Mulder and Scully is just right and so much fun, as is the entire episode.
The ghosts are played delightfully by Lilly Tomlin and Ed Asner and they push the limits of Christmas ghost shenanigans.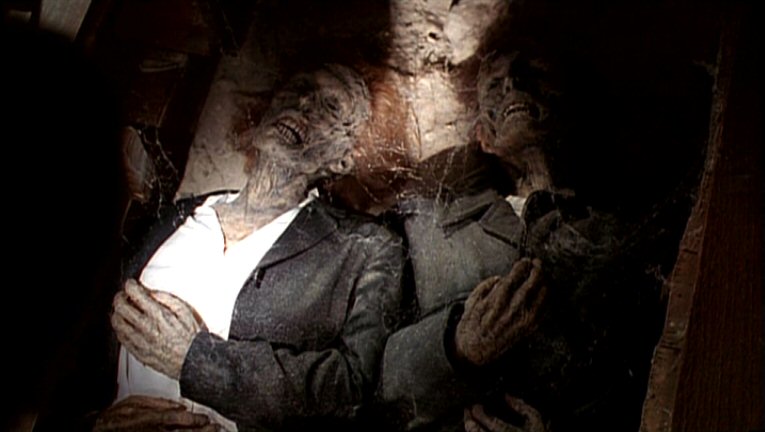 Photo: X-Files Wiki
It's a spooky yuletide caper and one very much worth a look. When the agents uncover two corpses under the floorboards and Scully notes that "she's wearing my outfit," Mulder's pithy response is, "How embarrassing."
Little gems like that are scattered throughout, along with plenty of eloquent discourse about what the holidays really mean and our desire to believe in things greater than ourselves like ghosts (which, according to Scully, don't exist).
"It doesn't take a degree in psychology to understand the unconscious yearnings that these imaginings satisfy..the longing for immortality, the hope that there is something beyond this mortal coil, that we might never be long without our loved ones...these are powerful powerful desires. I mean, they're the very essence of what makes us human...the very essence of Christmas, actually."
"A Very Supernatural Christmas" Supernatural
Photo: The Winchester Family Business
For those who yearn to ring in the holidays with some horrific ancient lore and two really hot guys, Supernatural's got you covered. They even throw in a healthy dose of really earnest Christmas spirit.
The show starts out with a little boy witnessing the magic of Santa (his costumed grandpa) delivering gifts under the tree. This Christmas dream-come-true is rudely interrupted when Santa gets yanked up the chimney
—l
eaving nothing but a bloody boot behind.
Needless to say, other merry-makers start to go missing as well, and it's not long before Sam and Dean come sniffing around. Other than the usual monster-of-the-week formula, this episode is interspersed with cut-backs to childhood memories of a Winchester family Christmas.
A poignantly sad moment that still grabs a few laughs is when big brother Dean presents young Sam with presents on Christmas morning, saying that Dad just couldn't wake Sam up. Sam tears in only to find a Barbie doll and a sparkly baton.
Photo: The Supernatural Fox Sisters
"Dad must think you're a girl," Dean says. But Sam gets what really happened, and in a show of gratitude and brotherly love hands Dean the special present he was saving for their father (it's the Samulet!).
In between soft, gushy moments and saccharine-soaked displays of holiday spirit on steroids we get to see the boys hilariously sing a Christmas carol, shop for "fussy" wreaths, and
—
of course
—beat the shit out of "Anti-Claus."
It's a rollicking good time and is the perfect Christmas treatment from a show chock-full of angels, magic, and spirits of every kind.
"The One with the Holiday Armadillo" Friends
This is hands-down my all-time favorite funny holiday sitcom episode period. It's frickin' hilarious!! And I still laugh out loud ridiculously every time I watch it. It never gets old.
If you haven't watched it, you need to. I'm not going to tell you anything about it. Just go watch it. Right now. I mean it.
Photo: Pinterest
"All About Christmas Eve" Will and Grace
I have a dream. And it's to spend Christmas Eve with my kiddos in a swanky hotel room overlooking Times Square, wearing a fluffy white robe, downing champagne, and calling room service, housekeeping, maintenance, and anyone else we can lure to our room so we can employ the age-old tradition of caroling.
It's a fantasy that was inspired by this episode and I'm going to make it happen one day, if it's the last Christmas fantasy dream thing I ever do!
Photo: Previously TV


Did I forget to mention the flashing? You're welcome NYC!
Happy Christmas & God Bless Us - Every One!